Using your online services account dashboard
Keep track of your tasks and applications
When you log in with RealMe®, you're taken to your online dashboard – the hub for all your activities on the register.
Whether you're registering a new Financial Service Provider (FSP) or keeping details of existing FSPs up to date, most transactions or tasks you need to perform start at the dashboard.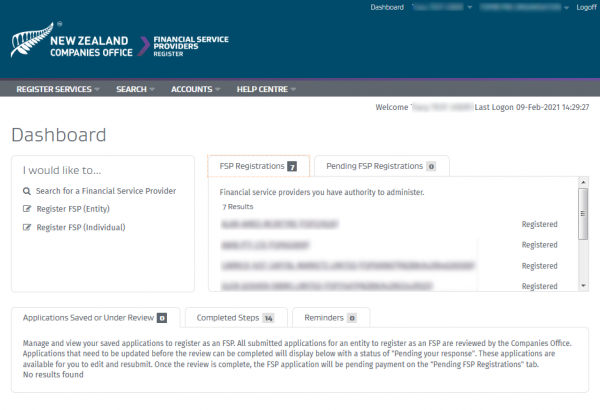 The dashboard has 6 key sections
1. Quick links
Use the shortcuts under 'I would like to...' to begin:
searching for a financial service provider, or
registering an entity or individual.
2. FSP registrations
See at a glance the financial service providers that you have already registered and have authority over.
3. Pending FSP registrations
View new FSP registrations that are awaiting:
payment
criminal history checks by the Ministry of Justice
approval by a regulatory body (the Financial Markets Authority, the Commerce Commission, or the Reserve Bank).
4. Applications saved or under review
See instantly what still needs to be done and keep up to date with the progress of your applications.
Manage and view your unfinished registrations — those where you have saved an application but not yet submitted to us. You can pick up and complete your application from here and submit it for registration.
We review all submitted applications for an entity to register as an FSP. If you submitted an application but it needs to be updated before we begin our review, we will mark those as "Pending your response". You can edit your application and resubmit it for us to review.
5. Completed steps
In this section you'll find a list of your completed tasks, such as criminal history checks and payments.
6. Reminders
In this section you'll find tasks for a number of actions that need to be completed within a specific deadline. For example, we'll add reminders when it's time to file your annual confirmation and, if applicable, to provide dispute resolution scheme (DRS) membership details. If you're a financial adviser, you will see reminders to be engaged by a financial advice provider.
If you have confirmed authority to update an FSP's details on the register, you will see these reminders on your dashboard.
When you select a reminder task we'll take you directly to the online service where you can complete the outstanding action. Once the action has been completed, we'll remove the reminder from your dashboard.
Log in and go to your dashboard